Chimney Inspections, Repairs, and Rebuilding from Waukesha Chimney Service Company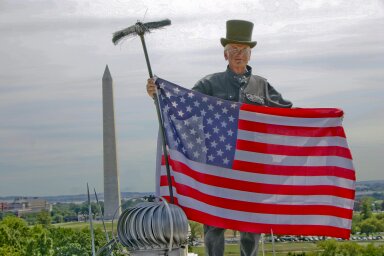 Jeff Schmittinger standing atop the White House, bringing expert chimney sweep services to our nation's capitol.
A clean, structurally sound and well-maintained Wisconsin chimney means the difference between a warm, comfortable home and a dark, cold winter. Ensure your Milwaukee chimney is in top shape for seasonal use by contacting the chimney service experts at Wisconsin Chimney Technicians, the best Waukesha chimney specialists in Southeastern Wisconsin. Quality workmanship, superior customer service and honest pricing are the qualities which make Wisconsin Chimney Technicians the best choice for your Milwaukee chimney service and repair needs.
With over 30 years of experience in Milwaukee chimney repair services, Wisconsin Chimney Technicians is your number one choice for superb service and dependable workmanship. Based out of Waukesha, WI—and servicing everywhere from West Bend to Delafield to Muskego—our professional careerist technicians are dedicated to providing our customers with all of the excellent chimney cleaning, repair, and inspection services necessary for ensuring a safe, clean chimney for years to come.
Expert Milwaukee Chimney Sweep and Cleaning Professionals
The Milwaukee chimney sweep professionals at Wisconsin Chimney Technicians are committed to providing our customers with clean, safe chimneys at affordable prices. We apply years of on-the-job experience to every chimney sweep job in Waukesha and beyond, ensuring our customers can enjoy warm evening fires throughout the winter. From multiple flue chimney systems to simple single flue chimneys, Wisconsin Chimney Technicians is your number one choice for excellent chimney sweep Milwaukee services.
Our Full Range of Chimney Services in Greater Milwaukee
Wisconsin Chimney Technicians offers a full range of chimney services in Greater Milwaukee, including chimney repair, annual Milwaukee chimney inspections, flue resurfacing, and chimney top repair. Annual inspection and sweeping of your chimney from the professional chimney experts at Wisconsin Chimney Technicians guarantees a watertight, structurally sound chimney. Utilizing our dependable, high quality Milwaukee chimney inspection equipment and our years of certified training, Wisconsin Chimney Technicians will turn a deteriorating, leaky and drafty chimney into a durable chimney capable of standing the test of time. See our Waukesha chimney repair gallery for examples of our excellent work.
All Services Offered to Ensure Safety and Restore Luxury:
Our professional Milwaukee chimney sweeps are certified by the Chimney Institute of America and receive year round training in all aspects of chimney repair and inspection, including new techniques and industry methods. Our commitment to constant improvement and education is meant to preserve and protect the integrity of your chimney and guarantee the safe, comfortable evening fires so many families enjoy.
Schedule your Milwaukee Chimney Services online today!
Schedule your Milwaukee chimney services today with our easy-to-use online scheduling system or contact our Wisconsin chimney sweeps at (262) 443-5933 for the best Kenosha chimney cleaning, inspection, repair and reconstruction services available in Southeastern Wisconsin.
ENSURING SAFETY - RESTORING LUXURY