Pewaukee Chimney Services: Repair, Rebuilding, Inspection and Cleaning
Pewaukee Chimney Sweep Cleaning Services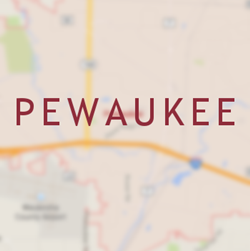 Wisconsin Chimney Technicians is the industry-leading chimney service providers in Pewaukee. Our CSIA certified chimney technicians are the most qualified to ensure your fireplace and chimney are both safe and fully functional. With over 30 years of experience serving Pewaukee residents, we are the most trusted, most affordable, and friendliest chimney service technicians around.
WCT's services include:

Pewaukee Chimney Rebuilding and Masonry Repair Services
Annual chimney inspections check your fireplace and chimney for signs of damage. Cracked and damaged chimneys require immediate attention to prevent a small defect from becoming a major problem. Wisconsin Chimney Technician's team of superior Pewaukee chimney repair specialists will repair the minor damage your chimney has sustained, returning it to like new condition.
Because brick and mortar have small pores on their surface they are susceptible to water damage. Water lodges in the pores and expands when it freezes, pushing the brick apart and causing cracks and damage. Contacting the Pewaukee chimney rebuilding and repair specialists at Wisconsin Chimney Technicians is the first step towards returning your chimney to normal.
Professional Chimney Tuck Pointing Services
The mortar holding your chimney bricks together wears down over time as well. Worn out mortar will chip and crack allowing moisture to seep in. When water permeates the mortar's surface it expands and forces the mortar to crack further. Tuck pointing is the act of repairing and replacing the mortar between your bricks to restore your chimney to ideal conditions. The new mortar repels water while improving structural integrity and the overall appearance of your chimney.
Contact the Pewaukee chimney repair specialists at Wisconsin Chimney Technicians for expert and prompt chimney tuck pointing services.
Pewaukee Dryer Vent Cleaning and Lint Removal Services
With each load of laundry your dryer vent slowly fills with lint and must be cleaned annually to avoid issues. Clogged vents impede airflow and force your dryer to work harder than normal and use more electricity. The lint in your vents can also become a fire hazard in extreme conditions or when the vent becomes totally blocked. Regular dryer vent cleaning and regular inspections are the best way to prevent these issues from occurring.
Keep your family safe and your energy bills down with an annual cleaning from the dryer vent cleaning specialists at Wisconsin Chimney Technicians.
Contact the premier Pewaukee chimney sweeps at Wisconsin Chimney Technicians for expert chimney cleaning, inspection, and repair services.