West Bend Chimney Sweep Services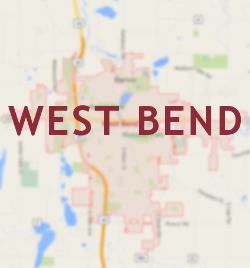 Chimney Repair, Rebuilding, Inspection, & Cleaning
Wisconsin Chimney Technicians provide West Bend homeowners with affordable chimney services, including:
With over 30 years of experience servicing West Bend residents in all aspects of chimney maintenance and construction, we are your best choice for chimney services. Our CSIA certified chimney technicians are the most qualified chimney sweeps in southeast Wisconsin.

Save Money with a Scientifically-Efficient Chimney
Hot air in your fireplace should come into your home without letting cold air from the outside in. In today's times, the collision of hot air and cold air happening in your fireplace requires scientifically-designed (yes, you read that correctly) chimney flues to control. Our nationally certified technicians install new flues in homes all over southeast Wisconsin.
In addition to replacing flues, we perform chimney relining services to get rid of old rusty chimney tops no longer controlling air leakage. Otherwise, the air entering your home can change the temperature inside. The right liner keeps air out of your West Bend house, helping you save on sneaky-high HVAC bills.
Chimney Masonry Restoration in West Bend, WI
Other problems we often encounter regarding fireplace maintenance includes damaged mason-work. Over time, condensation rots chimneys caps and causes brick to lose its luster. Why would anyone be a fan of degraded masonry on a formerly beautiful chimney? This kills the value of your home, while prohibiting its full potential.
Restoring your chimney's masonry work has many benefits for your home. For starters, it makes your home's exterior look better. And it increases the value of your home if you are looking to sell. And a repaired chimney with a new liner and flue can better direct smoke out from your fireplace.
Annual Chimney and Fireplace Inspections
An annual chimney inspection is essential to maintaining a fully functional, safe, and reliable chimney. Keeping your chimney and fireplace in top condition is important to keeping your home and family safe. Wisconsin Chimney Technicians provide comprehensive chimney inspections, including:
Basic visual inspection of entire chimney system (including all components)
Check liner
Check flue
Check chimney top
Check wood burning stove
After the inspection, our professional chimney technicians will discuss everything they've found with the hmoeowner and offer honest suggestions to improve, maintain, or repair the chimney.
Dryer Vent Cleaning in Wisconsin
Clogged dryer vents are a common and dangerous problem in West Bend homes. Over time, your dryer's exhaust vents fill with highly-flammable lint that needs to be cleaned out. Lint buildup slows down your dryer's airflow resulting in a dramatic drop in performance. Restricted airflow can cause your laundry to take longer to dry, make your energy bill spike, and increase the risk of fire. Wisconsin Chimney Technicians' dryer vent cleanings prevent the following:
Lint starting on fire
Carbon monoxide gas buildup
Our West Bend chimney sweeps will quickly clean out any excess lint from your dryer vents to keep your laundry dry and family safe.
Contact our West Bend Chimney Sweeps with any questions, or click the button below to schedule a service appointment.