Cedarburg Chimney Services: Repair, Rebuilding, Inspection, & Cleaning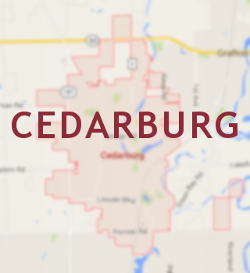 If there's one location in Wisconsin known for luxurious homes, it's Cedarburg. As the #1 chimney service specialists in the area, we would know. Our CSIA certified chimney technicians are the most qualified in Wisconsin. You won't find better, more affordable, or more friendly chimney service anywhere else.
Wisconsin Chimney Technicians' services include:
Chimney Concrete: Indestructibly Beautiful
For the toughest procedures like concrete chimney caps and crown repair, our Cedarburg chimney sweeps get it done. Chimney concrete must be beautiful, but beauty is of little to no value if it easily crumbles. To guarantee your new personal luxury lasts, we make chimneys indestructible so they last like the greatest architectural monuments. Every time we schedule a chimney concrete repair appointment in Cedarburg or elsewhere in Southeastern Wisconsin, our technicians consider it an honor to make your home extra beautiful.
Cedarburg Chimney Repair & Rebuilding Service
The professionals at Wisconsin Chimney Technicians will repair all forms of damage that occur to your chimney. Even damage that appears small will only become worse with age, so it is best to take care of all problems as soon as possible. Whether you have cracks in your mortar, deteriorated masonry, or need a full restoration, our chimney repair and rebuilding serivce will ensure that your chimney is repaired in a timely manner with the highest quality of workmanship.
Chimney Masonry Restoration in Cedarburg, WI
Chimney masonry often deteriorates more quickly than other surfaces because of its constant exposure to the elements on all 4 sides. Even the most beautiful chimneys will become deteriorated after decades exposed to Wisconsin winters. Not only does quality masonry look aesthetically pleasing, but it will also repel water and snow, keeping the inside of your fireplace dry.
Cedarburg Dryer Vent Cleaning
Many household fires are caused by clogged dryer vents. Over time, the exhaust vent in your dryer will become clogged with lint and can become a fire hazard if neglected. No matter how many vents you have, our dryer vent cleaning experts in Cedarburg will ensuure that your vents are clear and safe. Signs that your dryer vent is becoming clogged are:
Increased Drying times

Musty odors coming from your dryer

An increased exterior temperature of your dryer when in operation
Keep your family and your neighbors safe by having your dryer vents cleaned by Cedarburg chimney sweeps.
Annual Chimney Inspection in Cedarburg
The most common chimney problems we encounter are caused by weather, condensation, old chimney linings, and obstructions. Having your chimney inspected regularly is vital to maintaining a safe and efficient chimney. Our professional chimney inspectors in Cedarburg will visually inspect the entire chimney such as the liner, flue, and chimney cap for cracks, leaks, or spalling.

Do Chimney Doctors Go to Medical School?
As chimney sweeps, we often refer to ourselves as chimney doctors for a reason. The complexity of restoring a chimney requires delicate precision, not unlike an operation. Years have been spent by chimney professionals fine-tuning the advanced craft of masonry work. While the practice isn't medical, mastering chimney concrete is not an easy task. For Cedarburg fireplace repair, we want to make you enormously proud of your home and its flawless chimney.

Not ready to schedule an appointment? Contact our Cedarburg Fireplace Repair experts today.