Milwaukee Chimney Repair & Rebuilding Services from Chimney Masons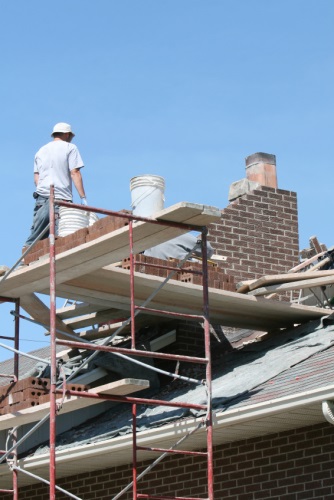 If you have a leaky, smelly, or damaged chimney in need of repair then contact the Milwaukee chimney repair experts at Wisconsin Chimney Technicians. With over 30 years of Waukesha chimney repair experience, the expert Milwaukee chimney masons at Wisconsin Chimney Technicians are the perfect choice for restoring your chimney to better-than-new quality. Chimney rebuilding services should never be performed without expert masons.
Minor Chimney Cracks & Mortar Damage
If your chimney only has a few small problem areas, cracks or damaged mortar then call the Waukesha chimney repair experts at Wisconsin Chimney Technicians. These minor defects and damaged areas can spread, creating more serious issues over time. Most chimneys are constructed with brick and mortar, both of which are porous materials capable of absorbing moisture. Some chimney flues are made of metal or steel, materials highly susceptible to rust. Simply put, the cold and wet Wisconsin winters can do significant damage to chimneys both inside and out, especially when we experience sudden shifts between warm and cold weather.

WI Chimney Repair Experts
Whether your Milwaukee chimney has a few minor problems or requires total replacement, you can trust the professional Milwaukee chimney repair experts at Wisconsin Chimney Technicians. Chimney rebuilding has never been done anywhere else in Wisconsin with such affordable and high-quality precision.
Schedule all your Milwaukee chimney services online today or call us at (262) 443-5933 to inquire about our Wisconsin chimney repair services offered in Racine, Milwaukee, Walworth, Kenosha, Ozaukee, Washington, Jefferson or Waukesha Counties.