Milwaukee Chimney Rebuilding Services from Chimney Masons
Professional Chimney Repairs Stop Fireplace Leaks and Odors
Chimney rebuilding services should never be performed without expert masons. Why? Chimneys start inside your home and end on the outside. A failed DIY repair can leave the interior of your house exposed to the elements. You need the professional chimney masons of Wisconsin Chimney Technicians. Our experienced team has repaired all types of chimneys, from damaged lining to broken flue cap.
If you have a leaky, smelly, or damaged chimney in need of repair it's time to contact the local Milwaukee chimney repair experts. With over 30 years of chimney repair experience, our expert chimney masons are the perfect choice for restoring and rebuilding your chimney to better-than-new quality.
Fixing Minor Chimney Cracks & Mortar Damage
Most chimneys are constructed with brick and mortar, both of which are porous materials capable of absorbing moisture. Some chimney flues are made of metal or steel, materials highly susceptible to rust. Simply put, the cold and wet Wisconsin winters can do significant damage to chimneys both inside and out, especially when we experience sudden shifts between warm and cold weather.
If your chimney only has a few small problem areas, cracks or damaged mortar then call the Waukesha chimney repair experts at Wisconsin Chimney Technicians. These minor defects and damaged areas can spread, creating more serious issues over time.
Our repair and rebuilding services include:
Whatever is affecting your chimney, our experienced masons can fix. We've restored chimneys of every age and style all over southeast Wisconsin. A restored chimney can improve the value of your home and improve performance.

Signs of Chimney Damage
Cracks in the mortar
Stains (efflorescence) on the bricks
Chimney is leaning
Water is accumulating in the fireplace
Smoke is not exiting the chimney
Strong odor from fireplace
Missing or damaged shingles around the chimney
The earlier you spot these signs, the earlier our masonry experts can start repairs. Contact our technicians if you see these signs around your chimney or fireplace. We'll inspect your chimney to see how bad the damage is and begin planning for repairs.
Wisconsin chimneys take a lot of weather damage from winter storms. Keep your fireplace in shape with our professional repair services.
Remodel Your Home's Exterior with a New Chimney Design
The exterior of your home takes a lot of wear and tear. Wisconsin weather has ruined many roof and chimney structures. Ice, wind, and heavy rain can all leave your home's exterior looking worn. When it's time to restore your siding and roofing, don't forget about the chimney! Our masons will restore your chimney so it looks good as new. And we can install a new flue cap and liner to prevent future damage from water leaks.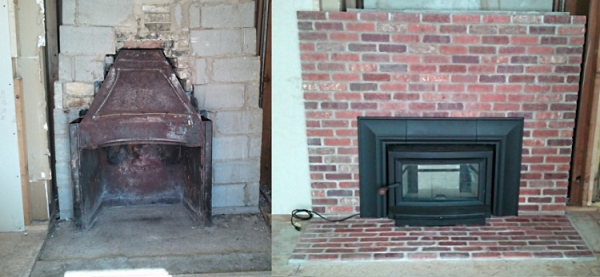 Wisconsin's Local Chimney Repair Experts with Nationwide Experience
Whether your home's chimney has a few minor problems or requires total replacement, you can trust the professional Waukesha-based chimney repair experts at Wisconsin Chimney Technicians. Our masons are members of the National Chimney Sweep Guild and are certified through the Chimney Safety institute of America. Chimney rebuilding has never been done anywhere else in Wisconsin with such affordable and high-quality precision.
Schedule all your chimney services online today or call us at (262) 443-5933 to inquire about our Wisconsin chimney repair services offered in Racine, Milwaukee, Walworth, Kenosha, Ozaukee, Washington, Jefferson or Waukesha Counties.