Smoke Stain Removal in Milwaukee and Waukesha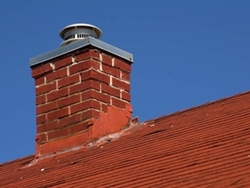 Smoke stain removal is a service in high demand around the Milwaukee area. For a variety of reasons, even having the inside of your chimney cleaned by a so-called "professional" can be an obtrusive ordeal. Lesser chimney sweeps commonly use invasive cleaning substances. The harmful chemicals and odors require residents to clear out of the house for extended periods of time. Many families in Waukesha resign themselves to thinking they will be forever stuck with severe stains on their chimneys. Others try self-cleaning logs and fail.
A staggering amount of home owners sadly believe there is nothing to be done besides dread the long term effects. For Wisconsin Chimney in Waukesha, it is unacceptable to have a gorgeous brick and mortar chimney yet put up with charred smudges from winter fires and excessive smoke. Chimney cleaning for smoke stains can and should be dealt with properly. However, common attempts to rid your chimney of smoke stains often damage the longevity of your chimney. Even worse, unskilled handling of the smoke stain removal process will lead to a multitude of problems in the interior of your home.
Chimney Restoration and Repair Services
Brick and mortar are at risk, especially with older chimneys, where power washing will destroy the joints. Likewise, majority of detergents will discolor the material, leaving you with an irreplaceably ugly chimney. The Wisconsin Chimney technicians have been at this for decades. We understand the reaction chemicals have and only utilize environmentally-friendly, non-toxic solutions for complete chimney restoration and repair services.
The toughest masonry stains are no match for the skills of our crew, including modern stone and marble chimneys. Why let a layer of disgusting soot ruin an otherwise beautiful piece of your home? Instead, have the smoke stains removed from your Milwaukee chimney today!