Unprofessional Milwaukee Chimney Sweep Services Destroy Home
Milwaukee Homeowner Chooses Cut-Rate Wisconsin Chimney Cleaner, Gets Covered in Creosote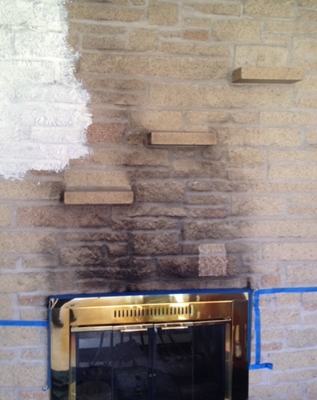 A Milwaukee homeowner in need of a Wisconsin chimney cleaning found a deal too good to be true while looking through Groupon. The Fireplace Doctor, an inferior chimney service company, posted an offer for a $59 chimney cleaning. The second-rate chimney company did something the Wisconsin Chimney Technicians would never do and cleaned the chimney from the top down rather than from the bottom up. This unprofessional malpractice blasted years of built up creosote down into their customer's home, covering everything in black, oily residue and causing around $10,000 in damages. Amateur mistakes of this nature never happen when choosing Wisconsin Chimney Technicians for your professional Milwaukee chimney cleaning services. Our expert Milwaukee chimney cleaners ensure Wisconsin chimney services of the utmost quality.
Homeowner Could Have Avoided Disaster by Choosing Professional Wisconsin Chimney Technicians
After some investigating, The Fireplace Doctor was found to have an "F" rating in the Better Business Bureau. Homeowners can avoid this entire debacle by choosing Wisconsin Chimney Technicians, the best chimney sweeps in southeastern Wisconsin for over 30 years. It is important for your Wisconsin chimney cleaning and services to be done by seasoned veterans, like Wisconsin Chimney Technicians, ensuring highest quality chimney services are performed. When you choose a cut rate chimney technician you run the risk of disaster, such as a home covered in creosote.
From sweeping and cleaning to Milwaukee chimney repairs and Wisconsin chimney inspections, Wisconsin Chimney Technicians provides the best Wisconsin chimney and Milwaukee fireplace services.
Avoid disaster by calling the Milwaukee chimney sweeps today at (262) 443-5933.