Sussex Chimney Sweep Service: Repair, Rebuilding, Inspection and Cleaning
Sussex Chimney Services
Taking care of your chimney is of imminent importance to everyone as a homeowner. Come winter, the best way for families in Sussex to enjoy the warmth of a fireplace is to have the chimney annually cleaned. Now here's the tricky part: have you ever called anyone to service the chimney in your current home? We're here to tell you the Sussex chimney cleaning services provided by Wisconsin Chimney will ensure safety and restore luxury.
Some of our most popular chimney services include: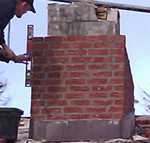 Seasonal Chimney Cleaning in Sussex
Wisconsin chimneys are subject to much harsher conditions than most. Harsh winters mean extended seasons of increased use. With every fire, soot and creosote builds up. The more buildup, the larger the fire hazard. Creosote and soot buildup is extremely flammable under certain conditions. Get the experts of Wisconsin Chimney Technicians to provide chimney sweep services so you can rest assured your home is ready for those cool fall days and frigid winter nights.
Sussex Chimney Inspections
If you're unsure whether you need servicing, call us for a chimney inspection. We'll check out the chimney and fireplace inside and out to see what needs to be done. The Milwaukee Fire Department recommends annual chimney inspections and cleanings to reduce the possibility of chimney fires. It's always a good idea to schedule at least one chimney inspection every year.
Our chimney sweeps provide a complete chimney inspection, including:
Basic visual inspection of entire chimney (including all components)
Check liner
Ckeck flue
Check chimney top
Check wood burning stove
After the inspection, our chimney technicians will discuss what they've found and offer suggestions for chimney maintenance, repair, rebuilding, etc.
Fireplace Repair & Rebuilding in Sussex
Seasons with drastic temperature fluctuations, like we have in Wisconsin, take their toll on chimneys and masonry. Water will flow into the smallest cracks in the brick and expand in the winter as it freezes. Over time this makes cracks bigger and bigger, eventually leading to broken brick, compromised foundations, and hazardous conditions.
Should you ever make the decision to sell your home, you'll be forced to spend money to repair your fireplace prior to finalizing the sale. In favor of personal enjoyment, it's better to have the fireplace repaired now so you will at least be able to enjoy your chimney, so long as it has to be done either way.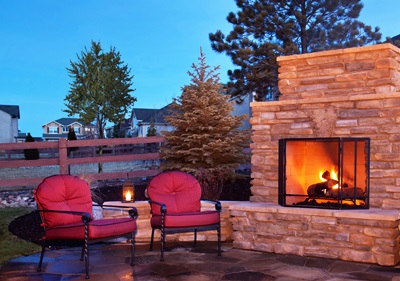 Masonry expertise means you could have a luxurious chimney like this outside your Sussex home.
Dryer Vent Cleaning in Sussex, WI
Clogged dryer vents are a common household problem in Sussex. Over time, your dryers exhaust vents fill with lint and need to be cleaned. This lint blockage slows down your dryer's airflow resulting in a dramatic drop in performance. This airflow loss means your laundry takes a longer time to dry and your energy bills will be higher. Dryer vent cleaning prevents the following safety hazards:
Lint starting on fire
Carbon monoxide gas buildup
The Sussex chimney sweeps at Wisconsin Chimney Technicians will quickly and easily clean this excess lint from your dryer vents, keeping you safe and your laundry drying quickly.
So quit staring at a chimney the entire family never uses. Contact Wisconsin Chimney Technicians today for all the fireplace details concerning your Sussex home.